NATURAL STAIN REMOVAL SECRETS
by Deborah L. Martin
Powerful, safe techniques for removing stubborn stains from anything. Drawing from centuries of practical, real-life experience, Natural Stain Removal Secrets proves that traditional cleaning methods are powerful, cost less and are much safer for you and yur staff to use than all the harsh commercial cleaners with their long list of warnings and health risks.. 265 pages, 5"x7".
Item No. 50510 . . . $12
CLEAN & GREEN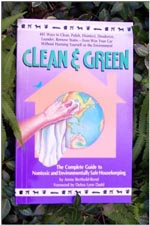 by Annie Berthold-Bond
485 ways to clean, polish, disinfect, deodorize, launder, remove stains even wash our car without harming yourself or the environment. Recipes based on harmless, non-polluting, renewable ingredients, 50,000 in print. 160 pages, recycled paper/vegetable ink.
Item No. 50303 . . . $8.95
THE GOOD BREAKFAST BOOK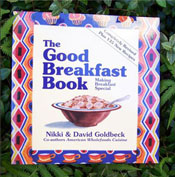 by Nikki & David Goldbeck
More than 450 vegetarian recipes to start the day, from quick weekday "getaways" to elegant brunches. Attention to fiber, complex carbohydrates and fat control. Special index for vegans, and those with wheat, egg, and dairy sensitivities. Great for Bed and Breakfasts, 224 pages, recycled paper/vegetable ink.
Item No. 50302 . . . $9.95 ea
CHOOSE TO REUSE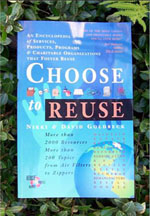 The Encyclopedia of Services, Products, Programs & Charitable Organizations That Foster Reuse

by Nikki & David Goldbeck
This revolutionary guide is the first to show the ingenious ways that individuals, businesses and charitable organizations can profit from reuse -the second environmental "R". More than 200 topics and 2000 resources from Air Filters to Zippers. A Book-of-the-Month Club selection."Magnificent" Co-op America Quarterly. 480 pages, recycled paper/vegetable ink, illustrated.
Item No. 50301 . . . $15.95 ea
RODALE'S ALL-NEW ENCYCLOPEDIA OF ORGANIC GARDENING
The Indispensable Resource for Every Gardener
Complete - Practical - Authoritative
The ultimate resource for any gardener concerned about responsible stewardship of the land. This is a complete source of information on knowledge to aid in all aspects of gardening without the use of chemicals. Helpful illustrations can be found throughout and make this a very popular title. Paperback, 7-1/2"x9", 689 pages.
Item No. 50401 . . . $19.95 ea
THE RODALE BOOK OF COMPOSTING
Easy Methods for Every Gardener: Improve Your Soil - Recycle Kitchen and Yard Wastes - Grow Healthier Plants - Create an Earth - Safe Garden
Shows how to dispose of grass clippings, autumn leaves, tree trimmings and more while offering an economical solution to an important environmental problem. With easy-to-follow instructions for establishing a variety of compost piles and bins, this one book also includes everything from site selection to information on how the rich results of composting can help feed the soil and keep plants flourishing. It's all in here. Paperbook, 6-1/2"x9", 278 pages.
Item No. 50402 . . . $14.95 ea
THE BEST OF ORGANIC GARDENING
Over 50 Years of Organic Advice and Reader-Proven Techniques from America's Best-Loved Gardening Magazine

Improve Your Soil - Recycle Kitchen and Yard Wastes - Grow Healthier Plants - Create an Earth-Safe Garden
Delivers Organic Gardening's best from compost and companion planting to the latest on safe, effective pest and disease control . . . plus savvy secrets and expert advice from gardening greats. This title is ideal for any gardener who wants to grow organically with easy-to-follow information on every gardening topic available in this one source. Whether the reader is starting a first earth-safe garden or simply wants to enhance an established plot, this book offers all the expert advice needed and it can be trusted just as Organic Gardening has for so many years. Paperback, 6-1/2"x9", 310 pages.
Item No. 50403 . . . $12.95 ea
RODALE'S CHEMICAL-FREE YARD AND GARDEN
The Ultimate Authority on Successful Organic Gardening
The only comprehensive guide to using organic methods to improve the soil and control insects, diseases and weeds throughout the yard and garden. Chapters on pest control include product-by-product information that includes pests controlled, how to make your own, and how and when to use them for vegetables, flowers, fruits, trees, shrubs and lawns. Paperback, 7-1/2"x9", 456 pages.
Item No. 50404 . . . $17.95 ea
THE CHEMICAL-FREE LAWN
The Newest Varieties and Techniques to Grow Lush, Hardy Grass

No Pesticides - No Herbicides - No Chemical Fertilizers
A clear, easy-to-follow guide to mowing, feeding and watering lawns providing a systematic approach to free readers from rigid lawn-care schedules all chemical free. Of the dozen or so most popular over-the-counter pesticides, nearly all are suspected of causing serious long-term health problems. This book shows readers how to avoid those pesticides while getting more out of the most popular gardening activity in North America lawn care. Paperback, 7-1/2"x9", 194 pages.
Item No. 50405 . . . $17.95 ea
GARDENING WITH PERENNIALS
Creating Beautiful Flower Gardens for Every Part of Your Property
This book is a gorgeous photo gallery of possibilities for using perennials to solve landscape problems, creating fabulous theme gardens, and introducing four-season color into beds and borders. It shows readers perennial combinations and garden styles they can recreate in their own yards or use as inspiration for their own unique design. Step-by-step illustrations and an illustrated seasonal care schedule offer at-a-glance instruction for caring for a perennial landscape. Hardcover, 8"x10-1/2", 312 pages
Item No. 50406 . . . $27.95 ea
THE ORGANIC GARDENER'S HANDBOOK OF NATURAL INSECT AND DISEASE CONTROL
A Complete Problem-Solving Guide to Keeping Your Garden and Yard Areas Healthy Without Chemicals
A timely book that features over 370 detailed photographs of harmful and helpful insects plus illustrations depicting major pest and disease problems on the most popular garden plants. Written in a friendly, easy-to-understand style, this title will allow gardeners everywhere to renew their relationship with the indoors while freeing themselves from the nearly $1.2 billion Americans spent on chemicals to safeguard their yards, gardens and farmlands last year. Paperback, 7-1/2"x9", 534 pages.
Item No. 50407 . . . $17.95 ea