MICROFIBER CLEANING CLOTHS

(For enlargement,
click on image)
Use Without Cleaning Chemicals!
What are microfiber cleaning cloths?
Made of polyester, nylon or polyamide strands that are many times finer than a human hair.
Fibers are actually wedge shaped so their edges can cut through and move soil off an object.
Feel soft, like a chamois.
Non-abrasive, and can be used without chemicals-with water alone.
What are some applications of microfiber cleaning cloths?
Great on glass, metal fixtures, drinking fountains, marker boards, sinks, counters, windows, chrome, brass, walls, computer and television screens, appliances and stain removal on carpet and floors.
SAVE MONEY! Use no more cleaning chemicals!
SAVE TIME! Clean the first time!
SAVE ENERGY! Minimal wiping is required!
SAVE MONEY! Withstands 600 to 1,000 washings!
Features:
Chemicals are not needed. Use with water alone.
Housekeepers are not breathing chemical fumes.
Excellent cleaning capabilities.
Ultra-absorbent.
Excellent durability: Last 600 to 1,000 washings.
Removes dirt and grime. Does not scratch.
Anti-bacterial.
Use dry, damp or wet.
Quick drying.
Can be squeezed almost dry.
Hi-Tech Ultrafine Microfiber.
Soft to the touch and to the surface.
Even wipes away bacteria.
16" x 16" with hemmed edges.
Green, blue, pink or yellow.
Item 74001/G/B/P/Y: 1-11...$4 ea; 12-49...$3.50 ea; 50+...$3 ea
CLASSIC DISPENSERS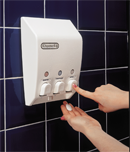 (For enlargement,
click on image)
FOR HAIR AND SKIN CARE PRODUCTS!
Either one, two or three-chamber dispenser for skin and hair-care products. A three-chamber by the shower for soap, shampoo and conditioner and a 2-chamber dispenser near the sink with soap and lotion or mouthwash is ideal. Key-lock. A push of the button dispenses just the right amount. Pump is guaranteed not to clog or leak. 14 oz. refillable bottles included.
Item 6221W: 1-Chamber, White, 10.5"H x 2.5"D x 2.75"W - $12.50 ea
Item 6222W: 2-Chamber, White, 10.5"H x 2.5"D x 5.5"W - $17 ea
Item 6223W: 3-Chamber, White, 10.5"H x 2.5"D x 7.25"W - $21 ea

AVIVA DISPENSERS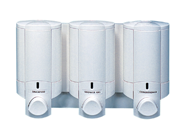 (For enlargement,
click on image)
FOR HAIR AND SKIN CARE PRODUCTS!
Soft curves, elegant styling, superior engineering and timeless quality. One-chamber units can be installed individually or grouped into two and three-chamber dispensers. Or, choose the two-chamber shelf system. Easy to install, fill and use. Available in a variety of colors and finishes. Quality and reliability guaranteed.
Item 6241W, One chamber, white, 7"H x 2.5"D x 3.5" W - $14 ea
Item 6242W: Two-Chamber, White, 7"H x 2.5"D x 7.25"W - $24 ea
Item 6243W: Three-Chamber, White, 7"H x 2.5"D x 11.34"W - $35 ea

PORTABLE BLACKLIGHT
Discover Not-Visible Stains!
6" hand-held 4-watt pocket blacklight locates often not-visible urine, semen and other bodily fluid stains revealing cause of odors and smells so they can be removed. Features flashlight and wrist strap. Every housekeeper's cart should carry one. Clean rooms are critical to all hotels and all guests. 7" long, 2" high, 1.75" wide, 4 AA batteries included.
Item 81001, $10 ea. 12+...$9/ea

SALT STICK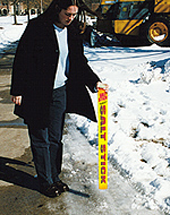 (For enlargement,
click on image)
the salt solution for icy walkways
Shake to Apply,
Environmentally Safe,
Goes Further than Rock Salt,
Spreads Quickly and Evenly,
Reduced residue left on Concrete and Blacktop.
The Salt Stick is a 32" x 2.25" convenient, reusable cardboard dispenser tube that contains 3 lbs. of buffered urea and Crelite (CO(NH2)2H3POxUP). The ingredients allow for the release of millions of heat molecules per second at temperatures down to 27 degrees below zero. The bottom end of the tube has a plastic dispenser that opens and closes much like a Parmesan cheese container. When the dispenser is open and the tube is shaken, the ice-melting materials are released and spread quickly and evenly.
Stash one in evey vehicle during Winter weather as an emergency item. Resell to guests.
Item 72222: Case of 12 dispenser tubes...$60
Item 72224: 40 lb Refill bag $30 ea. Pallet of 40 bags @ $20 ea
Item 72226: 2,000 lb. canvas tote bag...$1200 + $30 deposit
Shipping varies with quantity and weight of order.
SNOWSCOOP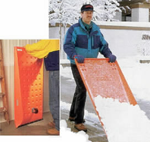 (For enlargement,
click on image)
It wheels away snow faster, easier and quieter than any shovel!
The Snowscoop is 56" long, 24" wide and has a 4" diameter wheel on the back that allows it to roll smoothly over any surface, easily carrying large amounts of snow to the side. The patented wheel is rated to carry up to 250 lbs. and is non-marking.
Moves snow 3 to 5 times faster than a shovel.
The wheel carries the load, not your back.
Lightweight and easy to use.
Stores easily. Hangs on the wall with 2 nails.
Creates no noise or pollution.
Safe: No blades, no gas, no electricity.
Durable, affordable and made in the USA.
How it works: The weight of the snow is supported by the wheel and not your back. A steel edge on the front lip will completely clean a smooth surface.
Material, Weight, Color: The Snowscoop is made of a durable polyethylene plastic, and weighs approximately 17 lbs. It comes in orange with black trim.
Item 75001: Snowscoop $70 + $15 shipping and handling = $85
Item 75002: Snowscoop with one replaceable protector blade $78 + $15 shipping = $93
Item 75003: Box of 2 replaceable protector blades $20 (includes shipping)